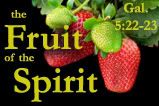 This beautiful award was given to me last week, but I am just now able to share with you my sweet thanks for the acknowledgement. This was very unexpected because I do believe it is my very first award in the blogworld. I have never written to seek approval from anyone other than God, but I must say it was a blessing to receive.
Many of you ladies have produced so much fruit through your words, that I am humbled to even take a look into your lives. I see God's hand in every word many of you type. I see you fear, but then trust. I see you stumble, but then reach out for help. I see you hurt, but then remember who is able to heal. I see you cry, but then laugh with joy. I see you share the love of Christ in a way that is real and relevant to a lost world and to other fellow believers. This is what I see as Real Fruit.
When I read Galations 5:22-23 that says, "But the fruit of the Spirit is love, joy, peace, patience, kindness, goodness, faithfulness, gentleness and self control," I think of all the men and women who have taught me through their trials, sufferings, and also their triumphs that ultimately we are to love God and love others. I can't think of a better way to produce much fruit.